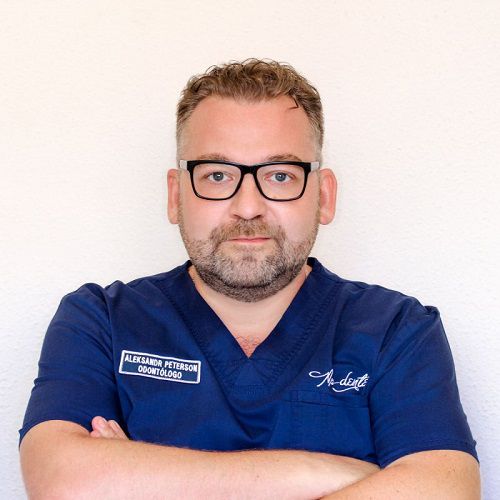 Alexander Peterson: "I was born and raised in Moscow. In 2005, he graduated from the Faculty of Dentistry of the Tver Medical Academy, then completed 2 years of residency in Moscow in MONICA, and then worked in Moscow clinics. In 2015, he confirmed his diploma and began his practice in Spain. 
All my work experience, in parallel with practical work, I studied a lot at various courses and master classes, first with the best Moscow specialists, and then after moving to Europe, I already had the opportunity to study with the world's leading specialists.
My main specialization is orthopedics. 
Of course, I can put a seal and remove a tooth. And some time ago I was treating children. And many patients were upset when I stopped doing it. 
I am moving away from these works because I am more inspired by orthopedics, aesthetics and rehabilitation of the dental and maxillofacial system as a whole. 
I like to create beautiful smiles, give people the opportunity to laugh openly, chew fully, get rid of headaches and clicks in the joints. Therefore, I studied this industry the most and devoted the most time to it. 
And I'm also very fascinated by all sorts of electronic gadgets! That's why I equipped the clinic with cool gadgets, for example, an intraoral scanner, a CT scanner and a computer axiograph. Such complicated names! In a word - these devices allow you to carry out treatment not by eye, but digitally, when many things are calculated by a computer after a thorough diagnosis! 
But for other types of work, I have assembled a team that I can trust. 
Therefore, now, for implantation, I refer patients to a doctor who is deeply passionate about surgery and implantation, for canal treatment - to an endodontist, for the installation of braces - to an orthodontist. This way I can be sure that my patients are in safe hands, with doctors who specialize in these problems. 
So I will be glad to see you at the reception! »